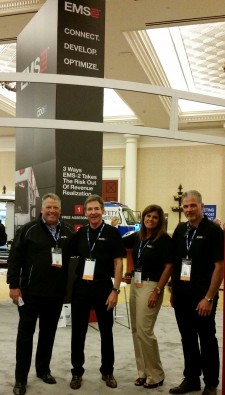 New Compliance Regulations Drive Innovation
Schaumburg, IL, December 6, 2016 (Newswire.com) - ​​With the ambulance industry caught in the crossfire of widespread fraud, ambulance companies must now show unmatched accountability of all transport activities. According to Bill Stuckert, President and CEO of CDO Squared, Inc., "This level of accountability was not possible for all ambulance companies in the past because those kind of accountability tools did not exist in the marketplace until we went to work on a solution. My company wanted to find out if an automated system would be attractive to the industry, so we partnered with the American Ambulance Association (AAA) on a survey of 126 ambulance executives. We asked the following question to our sample:
Today's ambulance companies are under fire to provide documentation for all their activities. How interested would you be in a software that would not only help you collect more revenue but would provide audit-strength compliance and accountability documentation?"
The results were conclusive. A solid majority were interested or very interested in using software to automate their data and compliance documentation. Shortly after that, CDO Squared showcased their new proprietary EMS-2 software package at the AAA show in Las Vegas. According to Mr. Stuckert, "The interest in this innovative product was overwhelming. We demonstrated the software to at least 50 of the nation's largest ambulance companies where we heard that the tracking and simplicity of the software was spot on for dealing with the need for increased documentation."
A-TEC Ambulance Inc., a leading ambulance company in Chicagoland area, was chosen to beta test the software on all levels of accountability. According to A-TEC President, David Davis, "We saw a marked increase in efficiency of understanding the details of the runs our fleet was making. The software helped us organize and identify holes in our compliance and billing processes. Building on our goal for 100% compliance, each non-compliant run is identified and processed compliantly. Being compliant and following a proven methodology and process sped our billing lag from 14 days to 3 days.  This was accomplished with the automated software tools from CDO Squared. The advanced analytics also allows us to provide audit-strength compliance reporting and financial acuity to help run our business. Overall, it increased our revenue realization by over 30 percent in the first 90 days."
About CDO Squared
CDO Squared maximizes revenue realization for profit-minded EMS providers by connecting data, developing processes, and optimizing their ROI. CDO Squared has been helping healthcare businesses run more profitably for over two decades. Through proven financial technology and innovative workflow tracking, CDO Squared provides the medical industry advanced software and tools for analytics, visualization, and financial management along with the industry experience of seasoned revenue realization management professionals.
About AAA
The American Ambulance Association represents ambulance services across the United States that participate in serving more than 75% of the U.S. population with emergency and non-emergency care and medical transportation. The AAA was formed in response to the need for improvements in medical transportation and emergency medical services. AAA views pre-hospital care, not only as a public service, but also as an essential part of the total public health care system.
Contact
Don Johnson
Vice President Marketing
CDO Squared, Inc.
309.530.8269
Source: CDO Squared
Share: